It's not long now until 2015 is over! Christmas is coming up quickly! Some of the books leading up to the end of my READ50 list are:

The Bee Keepers Apprentice by Laurie R. King, The Painted Lady by David Ashton, Who Buries the Dead, When Maidens Mourn, Why Kings Confess (all by C. S. Harris).
43 ~ Recipes for Love and Murder: A Tannie Maria Mystery by Sally Andrew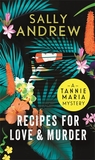 LOVED it! I think this novel just made my top 5 books for 2015. I thought the idea of blending food and recipes with a strong female heroine were the perfect mix. Tannie Maria is a superb character. I envy her forcefulness and her desire to make the most out of her life. Tannie Maria goes through a tough marriage and comes out a better person; through her experiences she is able to discover what she is passionate about. Her concern for those around her also seems very genuine. Sally Andrews does an excellent job at portraying life in the small village in South Africa. Tannie Maria lives in the Klein Karoo in a remote house where she enjoys testing new recipes, feeding her chickens and sitting on her deck with a coffee while watching the wildlife. To make some money, Tannie Maria is happy working for the Gazette writing a food column only to have her column changed to a love AND food advice column. She starts to receive all sorts of letters from readers asking for love advice and in return Tannie Maria writes back with honest love advice along with recipes which she believes will help their situations. Tannie Maria believes that different foods can help different situations and she is constantly cooking and bringing people food. BUT don't be tricked by all my talk of food, there is a murder mystery underneath all the yummy cooking. It takes the whole village to work together to solve the murder(s) and even a few handsome police officers.
Definitely you should read this book!
https://www.goodreads.com/book/show/26010158-recipes-for-love-and-murder
https://www.goodreads.com/author/show/2874812.Sally_Andrew
https://www.goodreads.com/review/show/1435836813
https://www.goodreads.com/review/list/38629860-adrienne-b
42 ~ What Remains of Heaven by C. S. Harris (Book #5 Sebastian St. Cyr Series)
I have been really enjoying this series. A mystery with a little bit of suspense and romance thrown in; I can't wait to get to the next books.
https://www.goodreads.com/book/show/6423507-what-remains-of-heaven
https://www.goodreads.com/author/show/22067.C_S_Harrishttps://www.goodreads.com/review/show/1435834404
41 ~ The Next Always by Nora Roberts (Book 1 of Inn BoonsBoro Trilogy)
Not horrible, but a 3 star. This novel has a great cover which piqued my interest but the storyline felt a bit forced and elaborated. The descriptions of the Inn were in-depth to say the least and the stalker Sam felt like he was added in as an afterthought to add drama. A quick read and a feel good novel but fell a bit short for me on content. Interesting to find out that Nora Roberts and her husband actually renovated and own the Inn.
https://www.goodreads.com/book/show/10305231-the-next-always?utm_medium=api&utm_source=blog_book
40 ~ Where Serpents Sleep by C. S. Harris (Book #4 Sebastian St. Cyr Series)
A fun easy read. Not a romance really, more of a mystery/detective novel. I read the first book in the series and didn't love it but decided to give it another chance. Just starting book #5. I appreciated that there was enough mystery and action to keep to me interested and wanting to find out who was killing everyone and why. The story has Hero Jarvis, who is very independent and an early feminist type character. She claims that she does not want to get married but would not mind having children of her own if she could without society rejecting her. She follows class protocol most of the time but occasionally throws it off to accomplish her own agenda. Secondly there is Sebastian who is trying to recover from his heartbreak with Kat. He is not ready for a relationship either but he and Hero work well together in solving the murders.
https://www.goodreads.com/book/show/3142581-where-serpents-sleep?utm_medium=api&utm_source=blog_book