27 ~ Nor Will He Sleep by David Ashton (#4 in Series)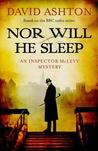 David Ashton's stories of Inspector McLevy always have enough drama to keep me interested. It is true that they can sometimes lose me somewhere in the middle for a bit but I always manage to catch up to the characters. I also was intrigued by Robert Louis Stevenson's character in the book and of course had to google a bit more about his life to get a full picture of who he was. His character added a great deal to this novel and I think Robert Louis Stevenson in real life lived such an exciting life going from a life in Scotland and Britain to exploring Hawaii and Samoa. A great series if you like inspector/mystery novels.
https://www.goodreads.com/book/show/18051573-nor-will-he-sleep
https://www.goodreads.com/author/show/400916.David_Ashton
https://www.goodreads.com/review/show/1360992950
26 ~ The Idea of Love by Patti Callahan Henry
A 5 out of 5 for a summer beach read. I loved Ella and Blake and thought they were really entertaining characters. The lies they told one another just got bigger and bigger until they could blame no one else but themselves for the trap they had created. I appreciated how Ella became more strong willed as the story went on and by the end of the book she realizes that she needs to act in order to accomplish her life goals. The theme of love is threaded throughout the story; it leaves the reader with no answer on what love really is other than a changing and morphing emotion that no one can control. The ending leaves you feeling hopeful and optimistic towards the lives of the characters. A great book for a quick summer read.
https://www.goodreads.com/book/show/23014609-the-idea-of-love
https://www.goodreads.com/author/show/207337.Patti_Callahan_Henry
https://www.goodreads.com/review/show/1328127607
https://www.goodreads.com/review/list/38629860-adrienne-b
25 ~ God Help the Child by Toni Morrison

I read this book in one day. It was a quick read and I didn't find it difficult to get through. I liked the way Toni Morrison goes back and forth between characters but didn't care for any of the characters in particular. The book didn't give me any hope or sense that anything would change for any of the characters. Bride's behaviour was very self focused. She was successful and didn't appear to value her own life or those around her. I think Bride's best quality was that she seemed to genuinely care about the troubles people face but yet she never made the effort to actually help anyone. I hate feeling at the end of a book that the world is a scary place and that there are so many child predators out there. I know these things exist but I wouldn't normally pick up a book to read about it. I'm left feeling so so about this novel so I gave it a 3 out of 5.
https://www.goodreads.com/book/show/23602473-god-help-the-child
https://www.goodreads.com/author/show/3534.Toni_Morrison